Taking a step back – Did Netflix get it right or not? - Madam C.J. Walker.
Thursday, March 26, 2020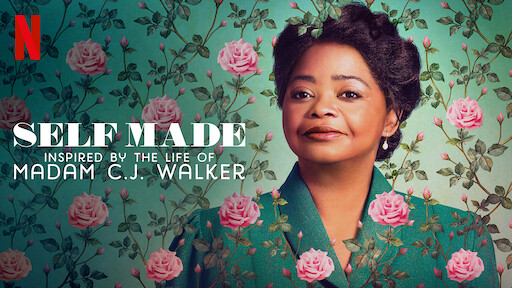 Coronavirus has really got all of us in serious chokehold – preventing all plans we may have had and has all of us literally cooped up in our homes. From when we were advised to start social distancing, I took it quite literally and began the whole self-isolating process a while ago. In the present lockdown situation, I hope and pray everyone is staying indoors avoiding social contact for the benefit of all our wellbeing – the quicker we abide by this new normal the quicker we can get back to what we called normality. Netflix, Amazon prime and now newly dropped Disney+ have become practically all our holy grail alongside the occasional stroll to the kitchen and back. Luckily, there have been a couple new additions to these streaming services including Netflix's "Self Made: Inspired by the Life of Madam C.J. Walker" – which instantly caught my attention.
If you don't know who Madam C.J. Walker was then let me give you a little brief history lesson. Born Sarah Breedlove, she lived a life that many of us would be inspired by – being the first female
SELF-MADE
millionaire in the USA as recorded in the Guinness Book of World Records. Her wealth was rooted in her love and passion for hair care products for black women – with her most famous invention being the world's first hair straightening product that was used alongside the hot comb. Walker's net worth equates to approx. $8.9-10.7 billion today – demonstrating the extent of her grind. Honestly, her work is endless and if you're looking for someone to read up on, I would recommend researching the life of this extraordinary woman.
The miniseries features Octavia Spencer as Madam C.J. Walker herself alongside, Tiffany Haddish as A'Lelia her daughter and Blair Underwood as her husband. As it is a miniseries, you could binge this in a couple of hours – I know I've binged more hours before unashamedly. Her life is captured through a re-enactment of 20thcentury America, yet what I can say is the stereotyping and evident clichés throughout the series. One thing that I noticed was the negative connotations given and amplified in the character of Madam C.J. Walker – particularly the shift of determination to greed. History writes her to be a black woman with the ambition to uplift other black woman as a means to grow the race's standing. Yet, Walker's ambition is demonstrated as self-serving with a mission to grow for her own benefit – shown through her relationships particularly her daughter and husband. Her drive makes us as viewers almost see her as 'the big bad wolf' for attempting to develop her dreams – almost wishing she took a step back. This isn't what history teaches and this obnoxious nature that is shown almost overshadows the compassion that Madam C.J. Walker should be remembered for.
Despite this, I believe there are some lessons that can be taken from this mini-series. First, beauty is subjective – the image of the 'Walker girl' that we see her walk away from still exists today with many being compared to the Western standard of beauty. The embracing of beauty, however you chose to define it – as seen with the elaborate differences in hairstyles and clothing choices from all women in the show. Second, the importance of acknowledging the need for others in support – in whatever form that comes in. Unfortunately, Netflix failed to really exemplify this dynamic to the best of its abilities – however by the end we learn that success is gained through working together. At a time where people are at their most vulnerable by a situation that we couldn't control, it seems that this is more prominent now more than ever.